The Sideshow
Posted in: Show Off
Reply
---
490 posts
from Little Elm, Texas
I've recently been bitten by the custom/art knife bug. I met a guy named Mike Geist on another board. Mike runs a studio called Liontribe designs and makes one-off knives in a primitive, post-apocalyptic style that just clicked with me.
I only have two of his creations at present, but I wanted to share them. This first one is a 9.5" straight blade made from an old German file. In fact, he left a good bit of the old file teeth visible on the blade. The scales (handles) are micarta in a "copperhead" pattern: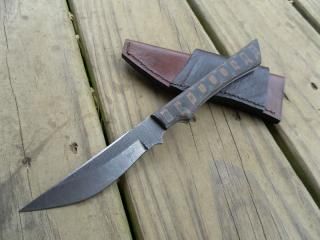 Here are some better pics which help show the original file used to make the blade. The acid-etched pattern is one he calls "crime scene".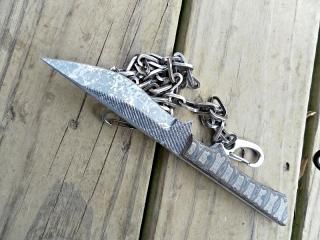 This is one I commissioned from Mike. It's about 9" long, with a heavy blade. The blade design is called "Dozer". He uses several acids to etch the metal to give it a highly-textured finish he calls "relic". The scales are California buckeye burl. Note the little lion netsuke on the lanyard.
"How old would be you if you didn't know how old you was?"

- Satchel Paige
Sat Jan 10, 2015 10:11 am Last edited by SecurityGeek on Mon Jan 12, 2015 12:20 pm, edited 1 time in total.
The Sideshow
Posted in: Show Off
Reply
---
Topic tools: ← Previous topic • Next topic →