The Sideshow
Posted in: Art Events
Reply
---
Hi Everyone,
I wanted to share some info on the OkTOYberfest gallery show that is kicking off next Saturday. If you live in the Chicago area I hope you can make it out. Fun will be had!
-Ryan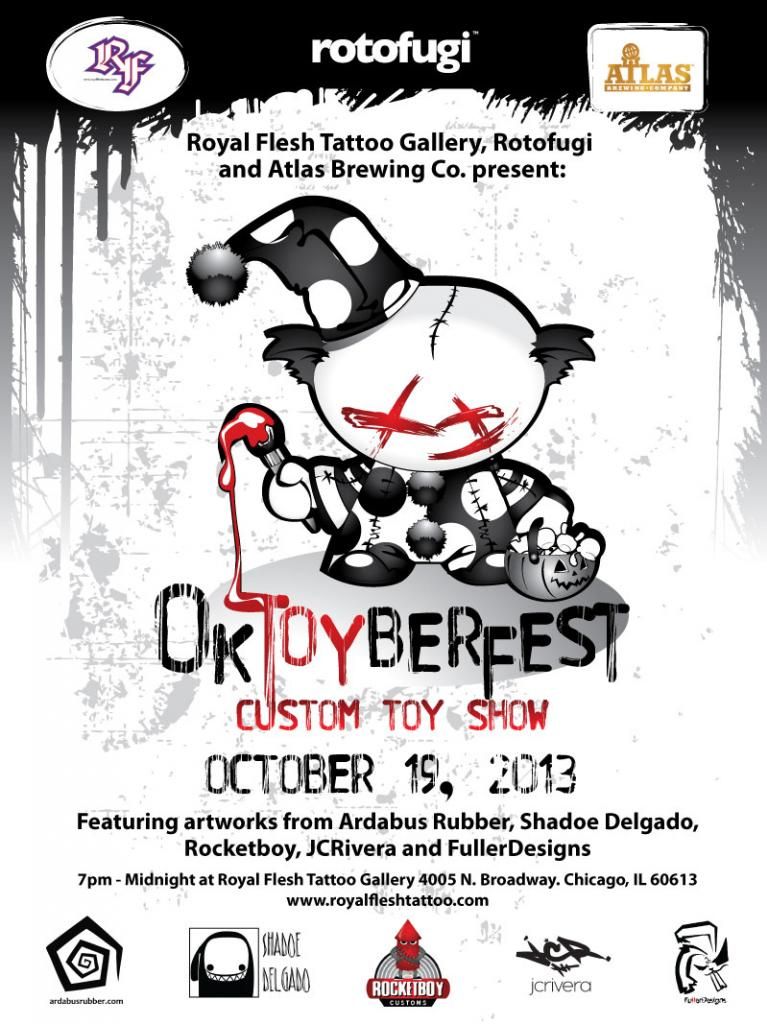 OkTOYberfest custom toy show presented by
Royal Flesh Tattoo Gallery & Rotofugi & Atlas Brewing Company
Chicago, IL-
– OkTOYberfest show will come alive on Saturday, October 19, 2013 from 7 pm - Midnight at Royal Flesh Tattoo & Piercing located on 4005 North Broadway, Chicago. Royal Flesh Tattoo Gallery, Rotofugi and Atlas Brewery Company are collaborating for a unique gallery show that will spotlight custom designer toys. The show will showcase all new artwork from five (5) artists: Ardabus Rubber, Fuller Designs, JCRivera, Rocketboy & Shadoe Delgado.
This free show will feature unique art on display and for sale, ranging from custom designer vinyl and resin toys to canvas mediums. The show will be hosted by artists Fuller JCRivera and Rocketboy.
OkTOYberfest will also include a live raffle with a combination of unique prizes from Rotofugi, Royal Flesh Tattoo & more. Proceeds from the raffle will be donated to a local charitable foundation.
Complimentary refreshments will be available and provided by Atlas Brewing Company
Refreshments featured:
Baskerville Cocoa Nib Milk Stout (5% abv) Made in collaboration with Letherbee Distillers, this rich stout was designed to be paired with their outstanding Malört. Brewed with lactose and infused with cocoa nibs, Baskerville has a deep bittersweet chocolate flavor.
Atlas Golden Ale (5.5% abv) Barley and hops come together in refreshing harmony in Atlas Golden Ale. Inspired in part by German lagers, noble hops and pale malts make it subtle, yet flavorful.
For more information on OkTOYberfest, call (773) 975-9753 or visit
http://www.royalfleshtattoo.com/events.html
.
Also, there will be a Preview / Presale. The preview will be emailed out on Oct 18th and the presale will start the morning of Oct 19th. The preview/ presale, sign up link is:
http://eepurl.com/D4nev
. Sign up if you wanna get a first glance at the goods.
Hello buddy this is really the nice post here on just single click on our homepage you will play online
play happy wheels
game this is the multiplayer game based on rag-doll theory of physics people worldwide loves to play happy wheel game you can play happy wheel game on just single click on our homepage their is no any download and registration required to play happy wheel game.
The Sideshow
Posted in: Art Events
Reply
---
Topic tools: ← Previous topic • Next topic →